Vietnam's IT industry (scales/characteristics) and IT offshore development background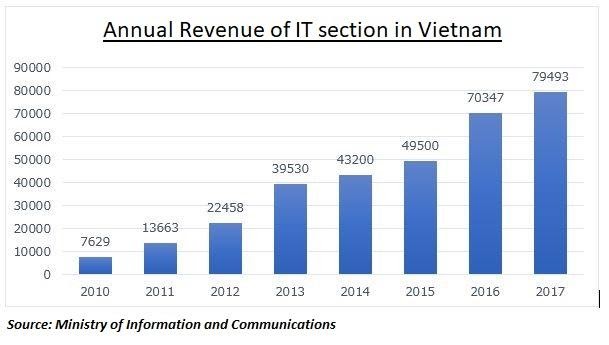 1. The IT industry scale in Vietnam
The country's IT industry has achieved exponential growth in recent years, with recent total sales of over US $80 billion, compared to the U.S. In general, hardware sales account for more than 80% of the total, and the remaining 20% ​​is software industry sales.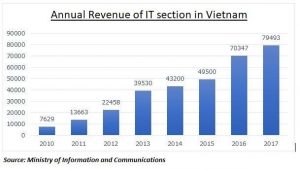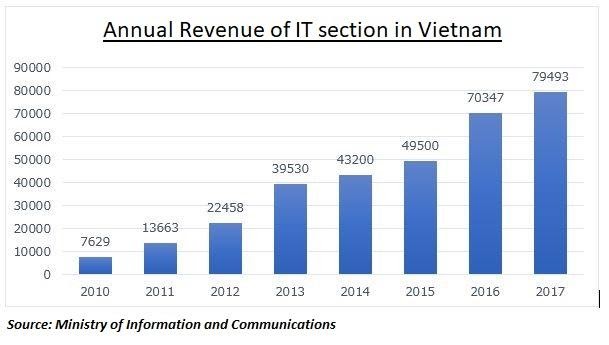 IT hardware manufacturers expanding into Vietnam (partial)
Many hardware manufacturers including foreign companies are blooming in and around Ho Chi Minh City, Hanoi, Bac Ninh City and Thai Nguyen City. Furthermore, products produced in Vietnam have been exported to various areas in the world such as Japan (Amount of export: Approximately 7.5 trillion yen/2017).
| | | |
| --- | --- | --- |
| Company Name | Location | Summary |
| Intel Products Vietnam | Ho Chi Minh City | Established in 2006. This is a semiconductor production subsidiary of the US semiconductor manufacturer called Intel. Investment funds are over $1 billion USD. |
| Samsung Electro-Mechanics Vietnam | Ho Chi Minh City | A subsidiary of Samsung Electro-Mechanics in South Korea. It manufactures semiconductors, chips, camera modules, etc. The investment funds are over $7 billion USD. |
| Renesas Design Vietnam Co., Ltd. | Ho Chi Minh City | A subsidiary of a major Japanese semiconductor manufacturer (Renesas Electronics Corporation), which primarily designs semiconductors for home appliances and automobiles. |
| Saigon Semiconductor Technology | Ho Chi Minh City | A semiconductor manufacturer established in Vietnam in 2014. The company participates in the production of semiconductors. |
| GES Viet Nam | Ho Chi Minh City | An US company. An U.S Company, which was Established in 2008 and is involved in producing semiconductor equipment globally. |
2. Vietnam's software market size
Vietnam's software market size is estimated to be about 1.8 trillion yen (2017). The detailed figure is estimated to be about 787.5 billion yen (around 73% of the total) for Vietnam and approximately 292.5 billion yen (27%) overseas.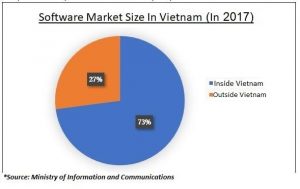 3. The correlation between Vietnam and Japan, regarding the IT industry 
With support from the government, as well as the abundance of resources such as IT engineers, infrastructure environment and excellent security measures, Vietnam's IT offshore development for Japan is larger than the U.S at $1.6 billion annually.
| | | | |
| --- | --- | --- | --- |
| Offshore | Work experience | Hochiminh City | Hanoi City |
| CEO | About 10 years | 15,000~25,000USD | 10,000~15,000USD |
| CIO/CTO | About 15 years | 8,000~15,000USD | 8,000~10,000USD |
| Senior developer | About 3 ~ 6 years | 1,500~2,500USD | 1,200~1,800USD |
| Developer | About 0 ~ 3 years | 600~1,500USD | 600~900USD |
| Senior Brse | About 6 ~ 10 years | 2,000~3,000USD | – |
| Brse | About 3 ~ 5 years | 1,500~2,000USD | – |
| Project manager | About 5 ~ 10 years | 2,000~3,000USD | 1,500~2,000USD |
Offshore development scale in Vietnam is growing at 20-40% annually.
With the rapid development of the IT industry in Vietnam, the demand for human resources in the field is drastically increasing, and it has doubled in the last three years. As a result, engineer salaries have been skyrocketing recently.
For the time being, a fair number of IT engineers in Vietnam are not well-equipped yet with fluent English-Vietnamese communication, compared to our Indian counterparts.
              * Reference: Vietnam IT personnel salary market (monthly income)
              * Quote (Vietnam 2019 SALARY GUIDE): https://bit.ly/2K2odFu
4. The IT offshore development circumstances in Vietnam
According to a survey conducted by an overseas research organization, Vietnam is evaluated as an attractive offshore market, specifically regarding the IT field.
* Example: AT Kearney (major consulting company: USA)
It was ranked 6th in the 2017 survey (AT Kearney's Global Location Services Index).
Abroad software development accounts for more than 80% of the sales of the country's software companies (the ratio of software development for the Japanese market is the highest).
With the gradual growth of IT offshore development in Vietnam, various IT companies here are using low-cost labor as a distinct method to significantly increase orders, mainly for downstream processes of system development, which directly affects competitors such as China and India, in regard to the IT offshore service industry. 
Vietnamese IT companies are making great efforts to comply with international quality management systems (ISO, etc.) and CMMI (Process Maturity Evaluation Index), in order to acquire projects from global customers.
* Reference (2017 Global Services Location Index / ATKearney): https://bit.ly/2KCaODr
5. Vietnam IT Offshore Advantages / Disadvantages
a. Advantages
Low-cost labor (about 1/3 of Japan).
Excellent IT/software engineers.
The distance between Vietnam to Japan is not too great and the time zone difference is relatively small (Japan time – 2 hours)
b. Disadvantages
High quality system development is still hard to achieve due to language barriers
For small-size projects, profit is simply insufficient at times.
Procedures such as preparing documents (designs/specifications) or managing progress is usually time-consuming.